New York City during the holidays is something you have to experience once in your life. The whole vibe of the city changes. My family and I go every year and it's the one thing I look forward to during the holiday season. Here are some must sees and dos during Christmas time in the city.
1.Central Park
Central Park is one of the most visited places in NYC and one of the few parks that are located here.
Horse and Carriage Rides 
Ice Skating. There are 2 ice skating rinks that open in the fall.
One other must see is Strawberry Fields in Central Park West. Strawberry Fields is a memorial for the Beatles singer, John Lennon. This is one of the most serene and beautiful parts of the city, especially when people line it with flowers in Lennon's memory.
Photo by Vivienne Gucwa
2. Rockefeller Center/ Radio City Rockettes 
Rockefeller Center during the holidays is breath taking. The famous Christmas tree gets lit up and its all decorated for the holidays. If you've never been to NYC during this time of year, you MUST go see the Radio City Rockettes Christmas Spectacular. Whether you celebrate Christmas or not, this is a great show to see. It has only changed a handful of times over the years so I wouldn't go every year.
3. Macy's  
No matter what age you are, you're never too old to see Macy's famous Santa and get some Christmas shopping done as well.
Photo creds to Jason Jobson
4. Broadway 
A Broadway play is good any time of the year but there's something special about going to see a play during Christmas. There are so many different plays to choose from like:
The Lion King
Aladdin
Wicked
Chicago
Kinky Boots
Cats
The Phantom of the Opera
Anastasia
5. Bryant Park
Starting at the end of October or beginning of November, the Winter Shops at Bryant Park open. The shops include everything from hats and scarfs to all kinds of delicious food. This is also where you'll find the best fried pickles on a stick and the best homemade apple cider. There's also an ice skating rink and restaurant in the middle of the park which both get pretty crowded in the winter.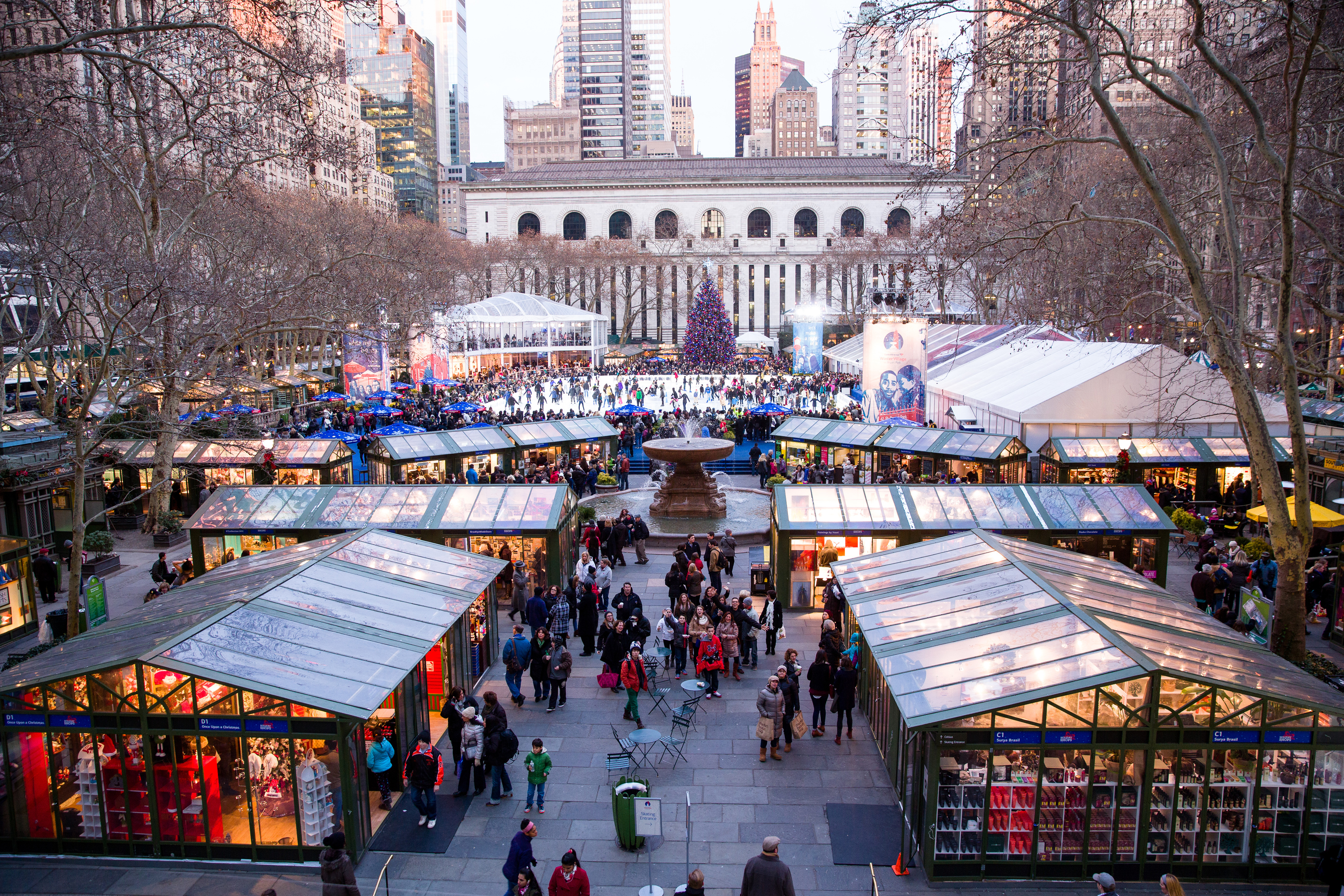 Photograph by Courtesy Angelito Jusay
6. Saks Windows
During the holidays, Saks department store reveals window displays that attracts millions of people. If you can get close to them, they are a sight to see. You can tell how much work actually goes into creating them.
7. Times Square
Times Square is more for the shopping and people watching, but it is also a good place to find a hot cup of coffee or hot chocolate to escape from the cold air.
What do you do for the holidays ?